Hardscape Services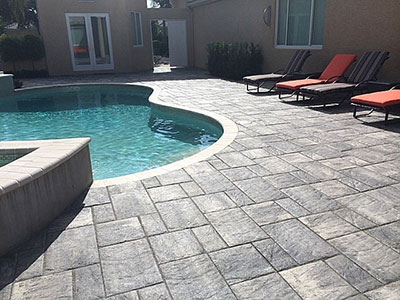 If you are looking for customized, top-quality hardscaping services, you need the expertise and skill that we at Cabo Brick and Stone bring to the table. Our company always adopts a personalized approach to every job and ensures that your outdoor spaces look stunning in every way. We are committed to providing superior installations and services to clients in and around Boca Raton, Ft Lauderdale, Coral Springs, and Pompano Beach.

Our team has handled a significant number of projects for clients throughout Deerfield Beach, Delray Beach, and Hollywood. We have completed a large number of hardscaping projects in Coconut Creek, Lighthouse Point, and the surrounding areas. The range of specialized services we offer includes:


Grading
We offer high-quality grading and site prep services to our clients. This is a crucial stage of any hardscaping and landscaping project, and we make sure that the job is completed systematically and safely. Whether you are installing a few features or an entire landscape, grading the land is essential to maintain the stability and integrity of these features. Our expert team carries out the grading work, so you don't have to worry about water pooling on your property or similar issues. We make sure that all the outdoor spaces are graded and leveled correctly. This approach helps to ensure that all the water runoff is directed towards the outside of your property. Read More About Grading »


Paver Walkways
Every landscape has some paved areas, but it may have flower beds and lawn installations too. The best way to navigate these areas without causing damage to the other features is to get paver walkways installed. Paver stones are available in a variety of designs and styles, and you can choose from different colors, shades, shapes, and designs. Our designers create unique paver patterns for walkways and will make sure that the installation is carried out systematically. We can handle paver design and installations in new landscapes as well as during yard upgrade jobs and make sure that the features are installed correctly. Read More About Paver Walkways »


Brick & Paver Pool Decks
Pool decks need to be designed with attention to detail, using the best quality products. We are the expert hardscapers that offer custom-designed brick and paver pool decks. Every design we provide is unique and helps to ensure that your outdoor spaces are stunning and functional. Brick pavers are resilient, and you can choose from a variety of colors, shapes, sizes, and styles. Our experts will provide ideas and insights and will also incorporate any that you provide. We are committed to providing our clients value for money and ensure that you get the kind of brick pool deck paving you want. Read More About Brick & Paver Pool Decks »


Paver Driveways
A driveway sees significant wear and tear over time, which is why we recommend that clients should opt for paver stones for these surfaces. You can choose pavers of different shapes and sizes, and we can create patterns that lend a dramatic appearance to your driveway. We make sure that the pavers stones are installed correctly using the best quality products. We offer products from various brands and make sure that the installation is completed to industry standards. Creating superb driveway design and plans is the best way to add a unique and appealing touch to your landscape. Read More About Paver Driveways »


Paver Stairs
Outdoor stairs and steps help add dimension to the landscape and need to be designed creatively and carefully. We can create and install paver stairs in various styles and patterns. You can choose from pavers made of natural stone, brick or porcelain, concrete and more. Whether you want a rustic, classic, modern, or contemporary style landscape, we will make sure that the stairs we install complement that style. We make sure that the stairs are stable and proportioned to suit the space they are to be installed in. Regardless of whether you want a few steps leading from an elevated patio into the yard or want elaborate features to navigate a tiered landscape, we are here to help. Read More About Paver Stairs »


Hardscaping
The hardscaping elements on your property are a crucial aspect of the landscape. They need to be designed to support various other features in the outdoor areas. When we handle this job for you, we provide you complete services ranging from design and planning to installation. Our company uses the best quality materials and makes sure that the features are built as per the plan. We focus on customization and ensure that you are 100% satisfied with the solutions we offer. Whether you want a paver driveway, walkway or pathway or need a retaining wall, fire feature or any other decorative masonry element installed, we are here to help. Read More About Hardscaping »


Concrete Pavers
We can provide and install all kinds of concrete pavers in various styles and patterns, to create superb design themes the outside of your property. You won't regret using concrete pavers on your project since they are cost-effective, easy to maintain, and extremely durable. Our experienced employees have access to top-quality concrete to ensure your project's success. Read More About Concrete Pavers »


Patio Pavers
The durability and aesthetics of your patio are crucial to the overall appearance and value of your home. One of the best ways to make sure that your patio looks great and lasts long is to use paver stones for the flooring. You can choose from pavers made of brick, natural stone or concrete and these resilient, outdoor grade products that are available in a variety of colors, sizes, shapes, and textures. We will help you select the best pavers and install them professionally so you have an attractive and long-lasting outdoor living feature on your property. Read More About Patio Pavers »


Brick Pavers
If you want to enhance the appeal of your landscaped areas, you need to make the right material choices. There are certain materials, such as brick pavers that lend themselves beautifully to different types of landscape designs and aesthetics. We offer high-quality brick paver design and installation solutions. Our team of paver installers can handle projects such as paving for driveways, walkways, decks, patios, poolscapes, etc. We use high-quality Brick paving in our work and make sure that the installation is completed to industry standards. If you are looking for uncompromising quality, we are the company that will help. Read More About Brick Pavers »


Natural Stone Pavers
Many people like the idea of getting natural stone features installed in the landscaping. You can use different types of natural stones in flooring installation and more. One of the best ways to create an impact in the outdoor areas of your property is to get natural stone pavers installed. You can choose from pavers made of travertine, granite, bluestone, flagstone or slate, etc. Creating a stunning landscape is all about using the right materials, and we offer excellent natural stone paving installation services for areas such as driveways, walkways, pathways as well as fire feature areas, poolscapes, decks and patios. Read More About Natural Stone Pavers »


Travertine Pavers
The beauty of your landscape depends on the types of materials that have been used in the features. Areas such as driveways, walkways, pathways, and poolscapesare exposed to climatic changes and the UV rays of the sun. These aspects can cause the surfaces to look dull and old much before their time. One of the best ways to overcome this issue is to use robust and hardy materials like travertine pavers. We offer excellent paver installation and ensure that these interlocking units are set correctly on the compacted sand. We offer you all the information you require about these products so you can make a smart decision. Read More About Travertine Pavers »


Porcelain Pavers
Porcelain pavers are unique in the world of landscaping materials. We have the experience and skills required to help you make the most out of these highly durable, long-lasting, and beautiful paving materials. These paving materials have an exceptionally high breakage load and are suited for a wide range of outdoor areas in your home or commercial property. Our experienced designers and craftsmen will consider all the key factors such as the outdoor space, your budget, expectations, and local conditions in helping you choose the right material. We will also assess factors such as your layout requirements, the surface slope, and your desired style when laying features with porcelain pavers. Working on porcelain paver projects is more challenging than with other paving materials. With over 25 years of industry experience, we have developed the unique knowledge and skills required to overcome the different kinds of challenges accompanying this material. Read More About Porcelain Pavers »


Retaining Walls
The most straightforward yet vital component of your outdoor spaces is the unassuming retaining wall. It is something that shapes your yard, firmly anchoring the soil behind it. Without retaining structures, the soil would begin to sag and eventually collapse. By constructing a retaining wall, you can ensure that your garden remains attractive and unchanged; the soil gets some support and does not erode. Though retaining walls mainly add stability to a property, you can also use them to segregate areas, construct planters, and create seating areas. We can design and build gravity walls, cantilevered walls, pile-supported walls, and anchored walls. We understand that when it comes to these structures, you want quality and stability. Our company provides customized solutions that work perfectly for your needs. We use the best blocks, retaining wall systems, stones, brick, etc., so that you get resilient structures that last long. You get value for money when you hire use for this project. Read More About Retaining Walls »


Outdoor Living
If you enjoy hosting parties or cooking outdoors, installing an outdoor kitchen on your patio, deck, or other outdoor space is the way to go. The addition of fire pits or fireplaces is an excellent way to enhance the comfort and usability of your yard. Besides, our team can install a grill to your customized fire pit, turning it into an excellent place to cook. Similarly, the better designed these spaces are, the more inclined you are to use them regularly. We offer a one-stop-shop for all your outdoor living needs, from decks and patios to backyard kitchens and fire features. To ensure the design of all these element's merges seamlessly with the overall aesthetic of your garden and property, we try to understand your tastes and then offer our professional advice. Our team assists with selecting materials and adheres to industry standards during construction to guarantee that you are pleased with the services. Read More About Outdoor Living »


Artificial Grass
Artificial grass is an excellent option for individuals who want a lawn but don't want to deal with the maintenance. After the lawn installation, you can start using it immediately, and there is no wait time. You don't have to worry about watering, mowing, fertilizing, weeding the lawn. Once you install it, it's there for use in the best condition, whenever you want. You will only need to hose it down occasionally to keep it clean and dust-free, and you can blow away the leaves and other debris that falls on it. In simple words, this lawn requires minimal upkeep, and it is incredibly long-lasting. You can bid goodbye to muddy footsteps and will have a challenging and hardy property that can last for over a decade with minimal maintenance. It provides an excellent return on investment. Since there are many different artificial grass products, we provide you with all the details you need about them, so you can make the right decision about what you need. Read More About Artificial Grass »

For any more information on our hardscaping, landscaping and other services, feel free to contact Cabo Brick and Stone on this number - 954-675-6734. Our team is here to help with a free consultation and estimates. You can also send us your details through this form and one of our experts will call you shortly.